Play Now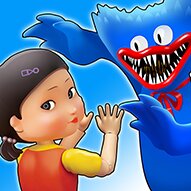 Rule the monsters world in Monster.io! You are living with many other monsters as a monster yourself and some poor people also accompany you around. But the thing is that all you monsters feed on people and monsters smaller than you. Now let's see if you'll eat the others or be eaten!
In this city, you have to eliminate other monsters that are smaller than you to consume them. When you crash the smaller ones, you get bigger and bigger. The levels on top of your head show you how big you got. So, always compare yourself with others before approaching them. If you are smaller than some monster, run away not to be eaten! Tiny people are the easiest targets and will make you upgrade, too! When you are eventually the biggest monster in the city, you will be able to pass to the next level. You will not only be the winner and pass to the next level but also earn money if you can achieve this. Feel free to unlock new skins with that money, too. So, now crash all your real-time rivals and be the occupier of the arena in this game!
If you enjoyed attacking real-time rivals in this exciting and fun 3D game, you should also check out our free and online io games, too!
Developer
2Play developed Monster.io.

Release Date
January 10, 2022
Features
3D realistic graphics
Multiple levels
Intuitive controls
Challenging and variety of enemies
Skins to unlock
Skills to upgrade
Controls
You can use the cursor to move the monster towards your rivals.