Play Now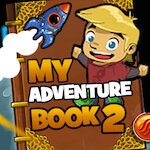 My Adventure Book 2 is taking you to dangerous places where you'll try to find your way out by using your logic! Everything started when the parents of a curious little boy left him home alone. He wanted to know what was in the attic so bad and he found a strange old book which caused this adventure to begin. Are you with him to find out what this book will bring you?
You need to go through all three chapters to finish and should complete the tasks in the given order to progress in this fun game. Your objective is to collect the correct items and use each one for a specific purpose, which is all up to you to find out! As you unlock more places by replacing the objects which you collected earlier, you will complete one chapter and pass to the following one. Your very first chapter to step into is the scary castle where you should wake up the sleeping princess! Then you can pass to the second one, the thrilling jungle where you should elude the crazy habitants! The third chapter is a little bit different than the others. The rocket chapter has a futuristic theme where you should fix the rocket to travel in space. You will be playing various mini games that test your different skills and solve many puzzles following the clues. Click on the question mark situated right top of the screen if you get stuck. Don't forget to collect the puzzle pieces! Good luck!
Check our collection of free and online adventure games if you can't stop the adventurous spirit in you!
Developer
Kizi developed this game.
Release Date
May 10, 2017
Features
3D colorful graphics
3 different chapters to finish
Various mini-games to enjoy
Entertaining and fluent gameplay
Controls
You can use your mouse and arrows to play this game.