Play Now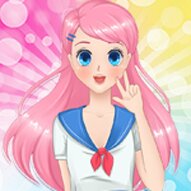 Have fun creating your own beautiful avatar in My Manga Avatar! Here's a chance for you to create a cute and beautiful manga avatar. Get playing this lovely game and see for yourself how beautiful your avatar will be!
In this game, you can design your own manga avatar. Firstly, you can start with the face. The eye shape defines the whole look. So starting from the eye shape, you can design your unique avatar. Factors like eyebrow shape, lip shape, eye color, skin color are all in your hands. If you wish, your avatar can have big eyes, and if you wish she can have frowning eyebrows and all. After designing her face, you can work on her hair. She can have any hair color and any hairstyle you want her to have. You will also have the chance to choose her outfit. From beautiful tops to cute dresses, you will design your avatar's look. For example, give her a smartphone or a chic bracelet. Finally, when you choose the background, you will have a great result. Enjoy your beautifully designed avatar!
If you enjoyed playing My Manga Avatar, you should also check out our collection of girls' games here.
Developer
Top Girl Games developed My Manga Avatar.
Release Date
November 08, 2021
Features
2D colorful graphics
Design your own manga avatar
Variety of clothes and accessories
Fun gameplay
Controls
You can use your mouse to choose options.