Play Now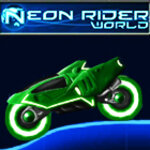 In Neon Rider World, get ready for an extraordinary realm. If you're expecting to ride on regular tracks, then you'll be surprised. The roads in this game are made from light. So jump on your motorbike, and start your eventful journey now!
No traffic lights and no rivals are waiting for you in this game. Your objective is to complete each level by reaching the end without dying. Start by clicking on the new game button on the main menu. Next, pick a level to play. There are 15 different levels to complete, but only the first one is available in the beginning. You can unlock the rest by finishing the open levels. Press on the W and the S key to move forward and use the brakes, respectively. You can maintain your balance with the A and the D keys. You'll encounter tracks with different colors. To ride on those, your motorbike should have the same color as them. Use the arrow keys to change the color of your vehicle. Falling through the gaps or running out of health by rolling over ends the game. Good luck and try your best to complete each level as fast as you can!
Drive different vehicles and unleash the speed demon withing in our collection of online car games by clicking here. Have fun playing!
Developer
Armor Games developed Neon Rider World.
Features
Can play on the levels created by other players
Colorful 2D graphics
Entertaining and exciting gameplay
Intuitive controls
15 different levels to complete
Controls
Use the WASD keys to control the bike. Use the arrow keys to change the color of your bike.