Play Now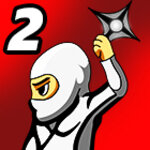 In Ninja and Blind Girl 2, embark on an epic journey full of different characters. The emperor was kidnapped by the evil panda, and only one person can rescue him. Join Annie and her team on this game, and help them defeat enemies through various levels. Can you rescue the emperor and save the empire from the evil panda?
Left her village when she was just a child, Annie learned many powerful skills. When she heard the emperor got kidnapped, she knew she should do something. The objective of this game is to complete each level by defeating all the enemies in it without getting Annie killed. The game features 25 different levels, each getting progressively challenging. On each level, Annie will stand in the middle, waiting for her team to defeat the enemies. Her blindness didn't hold her back from learning powerful attacks. You can use her skills to defeat enemies, just like you control the other members on the team. Just pick a skill from the menu at the bottom of the screen. As you complete levels, you earn coins. These can be used to upgrade and unlock the skills of your characters. You'll need these new skills because more dangerous and powerful enemies are waiting for you! Good luck!
If you enjoy playing this game, be sure to check our other game Ninja Run too. Have fun playing!
Features
25 different levels to complete
Interesting characters
Various skills to use
Intuitive controls
Entertaining and addictive gameplay
Controls
You can use your mouse to play this game.