Play Now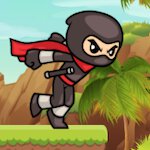 In Ninja Run, it's time to put all that training into action! As one of the most talented stealthy warriors, your character in this game needs your help. With his swift and agile moves, can you help him run through various obstacles?
As the scenery changes from the blossom-filled gardens and to the tropical beaches, you ninja is ready to tackle every obstacle on their way. Sand might get into his boots, but your character is determined to succeed. The objective of this game is to make your character run as far as he can by avoiding obstacles. To start, click on the screen and make your character begin running. From gaps to traps like spikes, you'll encounter many challenges on the way. Click on the screen to jump over them. Try to avoid explosives too! Your health is located in the top left corner of the screen. Obstacles and dangers are not the only things you should pay attention to! You'll also see coins and stars scattered around. Collecting these increases your score, so try to grab them all!
If you want a little bit more of action, then we got your back. Be sure to check our other fun game Rogue Soul, and take control of a skilled warrior. Click here to start this epic journey now! Have fun!
Developer
Aningame developed Ninja Run.
Release Date
June 24, 2019
Features
Colorful 2D graphics
Intuitive controls
Addictive gameplay
An endless level
Controls
Use your mouse to play this game.