Play Now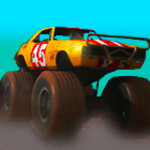 In Offroaders, get ready to join a challenging race against other drivers. Driving a car in an asphalt track would be easy. But with the larger vehicles in this game, you need to have more control to win each race.
Your objective in this game is to complete each race. To do that, you should finish each race in the top 5. By doing so, you'll also unlock the next race. The cheering of the crowd fills the air, so you better start now. Click on the play button on the main menu to start the game. On the next screen, you can select a race. If this is your first time playing the game or you don't have a saved game, only the first race will be available. You can unlock the rest as you win. After selecting a race, it's time to decide on your vehicle. You have 9 different options, but just like the levels, only the first car is available in the beginning. You can unlock the rest of the vehicles by using the money you earn from racing. Don't forget to earn achievements too! Check how to get them from the main menu. Have fun!
If you're into massive vehicles, then why don't you check our popular title, Monster Truck America? Enjoy!
Developer
Turbo Boing developed Offroaders.
Features
40 different achievements to earn
Colorful graphics
10 different races to complete
Intuitive controls
Entertaining gameplay
9 different cars to unlock
Controls
Use the arrow keys or the WASD keys to control your car. Use the C or the N keys for handbrakes. Press SPACE BAR to use the boost, and the ENTER button to reset your car. Press the R key to reset the race.