Play Now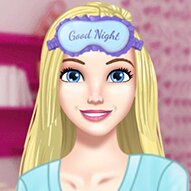 Join a BFF group of royal princesses and attend sleepovers with Pajama Party! Get the precious princess of the icy kingdom ready for the parties other princesses throw! Find the most stylish and relaxing combinations for these evening events and prepare for long nights of royal gossip and pillow fights!
Our lovely Eliza is invited to another sleepover by the princess of another kingdom, but she does not seem happy with her pajama combinations. She needs urgent help from a trend setter specialized in sleepovers, and luckily, you qualify! Roll up your sleeves, and let's get started! Even princesses want to get comfy sometimes, and this will not be a ball at a castle hall, but you can still choose the trendiest pajamas for the night! Start by cleaning her makeup and applying moisturizing cream. Now you can get to the styling part by doing Eliza's hair. You can choose something more stylish or go with a comfy bun that brings out her beautiful face. Next, you can choose tops, bottoms, or two-piece sets between cute pajama options. Finally, get a sleep band and slippers, and you're ready for the night! You can save a picture of your creation and keep the memory!
If you like trendy dresses for different events, you can check out our Girls Games to find more games like this!
Developer
Unify Media Inc. developed Pajama Party.
Release Date
June 14, 2022
Features
Fun for all ages
Family-friendly
Trendy pajama options
Cute hairstyles
Available on mobile devices
Controls
You can use the mouse to play this game.