Play Now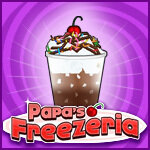 In Papa's Freezeria, Calypso Island has a new shop! Papa Louie opened a sundae shop, and you started working there. While the workload might not be as relaxed as it was advertised on the flyer, you still get to enjoy the warm sun and the beautiful scenes during your breaks. Can you keep your customers happy by preparing delicious cold treats?
It's always warm on this island, so sundae is a great way to cool off and enjoy the heat. Your objective is quite simple in this game. All you have to do is to take the orders of your customers, and serve them what they want! When you start the game, choose one of the two characters. Your customers will start to arrive. Click on the icon above them to take their order. You'll write down all the details about what they want. Next, visit the building station to start preparing the sundae. Add the necessary ingredients and then visit the mixing station. Mix well and then lastly, visit the topping station. Add the toppings according to the order ticket and serve it to your customer. They'll rate you according to how well you prepared the sundae. Enjoy!
If you're interested in playing more games like this, then be sure to check our collection of online strategy games. Have fun!
Developer
Flipline Studios developed Papa's Freezeria.
Release Date
August 5, 2011
Features
Entertaining gameplay
Different recipes to try
Variety of customers
Unlockable ingredients
Colorful 2D graphics
Controls
Use your mouse to play the game.