Play Now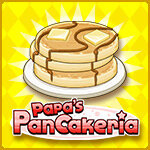 In Papa's Pancakeria, pack your bags because we're traveling to Maple Mountains. After your cat ran after a squirrel while you were buying pizza, you lost him. Luckily, Papa Louie found him but needs a favor. Can you take care of his famous pancake shop while he's gone?
Pancakes is one of the most popular and delicious breakfasts, and this store makes the best! Wear your apron and get ready to serve! Your objective in this game is to complete each day by serving your customers their orders correctly. You can play the game with your mouse, so click on the play button to start. Then pick a slot to save your progress and select a character from 2 different options. Just like the other titles in the series, you use different stations to play the game. The first one is the order station where you take orders from your customers. The second one is the grill station where you cook the pancakes. At the build station, you stack your pancakes and add toppings to them according to the orders you receive. Lastly, there's the drink station. You have to unlock it first. You earn coins and points at the end of each day. You can even unlock new ingredients too! Have fun playing!
If you enjoy cooking, be sure to check our collection of free food games here. Enjoy!
Developer
Flipline Studios
Release Date
March 5, 2012
Features
Unlockable drink station
Many customization options
7 mini-games to try
Lots of different customers to serve
Controls
Use your mouse to play the game.