Play Now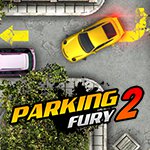 Parking Fury 2 is here to test both your skill and patience! Find yourself behind the steering wheel once again, and prove you can park any vehicle with ease. Featuring a dozen levels, do you think you have what it takes to tackle the challenges in this game?
Not being able to find an available place to park your vehicle can kill the joy, but luckily you don't have to deal with such things in this game. On every level, there's a specially designated place for you. Your objective is to reach that place through various obstacles and park your vehicles to pass the level. You should park three different vehicles on each level. These vary from cars to trucks. You can earn up to a maximum of 3 stars on each level, but you lose half of a star with each crash. Put your maneuvering skills to test and try to reach the spot in the parking lot without getting a scratch. Keep in mind that larger vehicles have a wider turn radius, so calculate your moves carefully! Have fun and good luck!
Finding a place at the car park is one thing, and getting out of the parking lot is another! Try your luck and test yourself in our other popular and fun game, Parking Jam. Don't forget to browse our other categories and titles for more free and online gaming experiences! Enjoy!
Developer
Andriy Pidvirnyy developed Parking Fury 2.
Release Date
November 2016
Features
Variety of vehicles to drive
Colorful 2D graphics
Intuitive controls
10 different levels to complete
Entertaining and challenging gameplay
Controls
Use the arrow keys or WASD to drive.