Parking Fury 3D Beach City
Play Now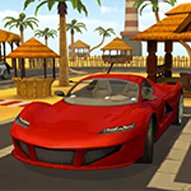 Meet your gangster side in Parking Fury 3D Beach City. Life has turned you into an outlaw, but you must go on your life one way or another. Plus, you are good at what you do. Get in the hustle of the beach city in this game and see for yourself if you can manage to be a gangster!
Get in your car and wander around the empty streets of this city. By empty, we don't mean completely empty, though! There will always be some cops around to beware of. Because they don't like what you do as an outlaw, they are waiting for you to be busted. So, act like a professional and be careful. All you need to do is to change your direction when you see a police car. This is easy for you since you are the real deal around here. On your way, don't forget to hop on some other cars. Because this is what you do for a living, you need to steal some cars on the way. Eventually, what you need is to park at the places assigned for you successfully. You can always keep an eye on the cops and park places around by checking the road map you have on the top left of the screen. So, jump in your car and get ready to steal some cars in this lawless world of beach city!
If you enjoyed playing Parking Fury 3D Beach City, you should take a look at our collection of free and online car games here!
Developer
Vitalitygames.com developed Parking Fury 3D Beach City.
Release Date
September 14, 2021
Features
3D colorful graphics
3 different driver views
Need for skillful driving and parking controls
Always on the run!
Controls
You can use the WASD or arrow keys of your computer to drive and park the car.