Play Now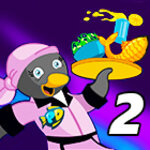 Penguin Diner 2 is here with us with much more fun and rush! Penny the broke penguin is not broke anymore! She finally earned enough money to get back home and decided to open her own restaurant now! But since she is new in the management business this time, can you help her as the owner of her ex-boss in the last restaurant she worked for?
Penny couldn't be happier! She is really good at the serving sector as we all witnessed in the first version of this fun skill game. All thanks to you, though! This time she wants to open her own restaurant chain in her hometown and needs your help to hold on to the restaurant sector. There are lots of works to do and a huge map to go but we are sure you two can handle everything! Even on the first day, the customers never stop coming. Click on the customers and select a table. Take their orders by clicking on the tables and wait until the order appears on the service table. Then click on the order and take it to the customer. If a customer leaves because of waiting too much, you can throw the food into the trash. Complete the daily goal for earnings and use the extra for improving the restaurant by buying new items. As you progress, the game can get more challenging, but nothing can stop you anymore! Let's rise this chain into the skies!
If you haven't tried the first version of this fun game, then be sure to play Penguin Diner by clicking here.
Developer
Bigwig Media Ltd developed Penguin Diner 2.
Release Date
Features
2D colorful graphics
Management themed skill game
Big map to complete
Fun and challenging gameplay
Controls
You can use your mouse to play this game.