Play Now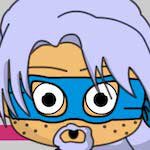 In Pocket Anime Maker, you can bring any type of anime character to life! Don't worry about not having the drawing skills to design cute or cool looking characters! In this game, you can create your favorite characters or even yourself with just a few clicks! Who will you create in this addictive game?
Huge eyes, tiny mouth, and a button nose are the key features of anime style. You have many different options to create various characters in this game. Start by clicking on the play button on the main menu. When you begin, your character will be on the left side of the screen. On the right side, you can see the customization options. At the top of the screen, you can see 4 different categories. The first one lets you choose a skin tone. From natural colors to more crazy shades like green or blue, you have a total of 10 different options here. You can also make your character perform different activities. In the next category, you can change your anime character's facial features. You can select new eye color, change the shape of their mouth, and can even pick a new hairstyle. The third category is where you select an outfit. Browse all the options, and then move on to the last part. Take a photo of your character here, and then maybe create a new one! Have fun!
Do you enjoy giving makeovers to different characters? Then be sure to check our collection of free and online girl games for more fun games!
Features
Colorful graphics
Cute characters
Lots of customization options
Entertaining gameplay
Controls
Use your mouse to play Pocket Anime Maker.