Play Now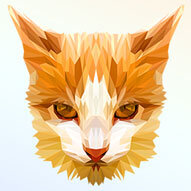 Poly Art is here to teach you some art entertainingly! You'll have to think up solutions here in this game! You can play it everywhere, or even challenge yourself to finish over 200 amazing levels! Are you ready to challenge your creativity and create 3D puzzles? Then let's jump into the game! Have fun!
In this absolutely wonderful and relaxing artful game, you'll find hundreds of animals, trees, cars, flowers, and much more puzzles to solve! It is the perfect chance to train your brain and improve your creativity! In this game, your aim is to slide the origami-like graphics together to create a full picture. The graphics can be moved by dragging the mouse or finger. When sliding, try to figure out which of the pre-determined pictures you should be creating. The more quickly you finish the pic, the more stars you'll win! When time passes, you will start to lose stars that you can see at the top of the screen. You will have more than 250 amazing puzzles to complete! Let's try if you can see the end of the levels or quit the game! Don't forget! You can also change the color of the background according to your mood or the time of the day! Have fun!
If you liked Poly Art, to check our collection of free and online puzzle games, click here!
Developer
Inlogic Software developed Poly Art.
Release Date
March 9, 2021
Features
3D high quality and colorful graphics
Over 1000 levels to complete
Racing against time
Simple controls
Controls
You can use your mouse or finger to play this game.