Play Now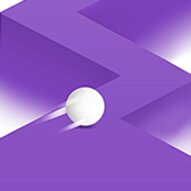 In Zik Zak, prepare for a thrilling adventure in which your attention and speed fingers will be put to the test! It's all about making Z on this route. That's why you need to be quick! You can fall if you come too close to the edges! Here, there is nothing and no one who can help you. Have fun!
Zik Zak invites you to join them on a never-ending and thrilling ball rolling journey. You'll be required to act quickly and concentrate in this situation. Even the smallest error might result in your ball's death. Fortunately, you appear to be just that type of player! To change the direction of this white ball, you must click or tap just at the right time. When you change directions, you can travel left or right. Follow the path with a lot of Zs and attempt to get as far as you can to earn the most points. The game is ended when the ball falls to the ground. The number of movements you make determines your point total. If you don't succeed the first time, you should try again. You can either restart after a few seconds, or you can resurrect with a little patience! Are you ready for a thrilling action? Have fun!
Do you want to play more games like this one? If so, take the different challenges in our collection of free and online 3D games.
Developer
Dumadu Games Pvt Ltd developed Zik Zak.
Release Date
June 30, 2021
Features
3D colorful graphics
Endless rolling ball experience
Simple controls
Fun and addictive gameplay
Controls
You can use your mouse or finger to play this game.