Play Now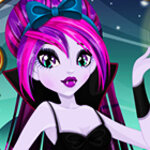 In Pretty Vampire Makeover, the sky darkens as the night time arrives and it's time for vampires to emerge from their houses. Our character in this game wants to look at her best, and she needs your help. Can you help this beautiful but vicious girl to look amazing for the night?
The fashion of vampires is different from the living, so get ready to play with extraordinary styles. Your objective in this game is to complete the 2 stages by helping the vampiric character get ready. You can play this game with your mouse so click on the play button on the main menu to start. In the first stage, you should focus on facial care. Vampires may be immortal but sleeping in a coffin all day tends to create some problems on their faces. Grab your beauty products one by one and apply them to your character's face. Apply a mask, get rid of pimples, and shape her eyebrows. She looks great already but you're not done yet! On the next stage, head to the dressing room for some styling. Click on category buttons to cycle through different options. Give your character a makeup, change her hairstyle, select a nice dress, and finalize the look with some nice accessories. When you're done, you can take a photo of your vampire and save it on your computer. Have fun!
As a great stylist, you have a long list of clients. Your next one is waiting for you in our other game, Princess Safari Style. Enjoy!
Features
Colorful 2D graphics
Intuitive controls
2 different stages to complete
Different customization options
A cute and beautiful vampire character
Controls
You can play this game with your mouse.