Play Now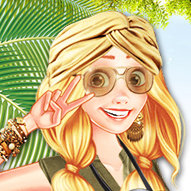 In Princess Safari Style, a new photo contest is about to begin! Our two princesses are about to go on a safari. Can you make sure they are both dressed up nicely and take Instagram-worthy pictures?
Is it even possible to dress to the nines while on safari and when it is this hot? With you as their fashion adviser, they haven't got a worry in the world. We know you got this. Your objective is to dress these girls and make sure they look stylish on their trip. Let's start then! First, start with choosing the outfit. What is the best outfit for safari? The choices are endless. You can choose between jeans and skirts, shorts and dungarees, and also try on dresses. When you feel like you chose the perfect outfit, move on to the accessories. Pick some fashionable but also comfortable shoes. You definitely can't do without sunglasses, scarves, and hats on safari. Grab your camera and bag and let's move on to the next step. Hair is one of the most important parts of your look so try to choose the best one. Great! Now that your hair is ready and you chose some accessories for the girls, you're good to go! Choose the best location to take photos. Will it be the one with camels in the background or the one that resembles the scenery in Lion King? Oh, the pictures and the princesses look fantastic. All thanks to you!
Now that safari is over, we can move on to the spooky season. Play Halloween Face Art now and make sure these three girls look fantastic for the party!
Developer
Developed by Games Banner Network.
Release Date
Jul 31 2018.
Features
2 characters to dress up
Many customization options
Different backgrounds to choose between
Easy controls
Controls
You can play this game with your mouse.