Play Now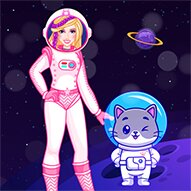 Help Princess Blondie on her space missions with Princess Astronaut! Who says that princesses can't go to space? Blondie here gets to discover new planets, solve mysterious puzzles, and complete a classy space suit to wear on her adventures! Help her find the objects that do not belong in the scenes and finish her gear!
Princess blondie is so helpful, intelligent, and kind that now the earth runs smoothly, she decided to go and help other planets! Hop into the spaceship with her, and let's get to our next station! A cleaning robot desperately claims that their planet is so messy and they need a pair of magical hands to organize their houses! She is lucky that our charitable Princess Blondie is here to give them a hand and find extra the objects that do not belong in that room! The next mission is to clean around a base with a protective shield. Let's find peaceful ways to keep the curious alien folks out of this dangerous zone! Check the list below and click on the objects on the scene after you find them! Complete all missions to give your space friends some peace and complete all three pieces of your space suit gift!
If you would like to learn the stories of our other princesses, you can check out our Girls Games category by clicking here.
Developer
DL-studio developed Princess Astronaut.
Release Date
April 8, 2022
Features
Three different puzzles
Improving attention skills
Fun for all ages
Available on mobile devices
Controls
You can use your mouse to play this game.