Play Now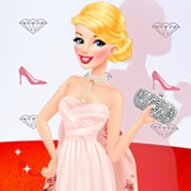 In Princess Gala Host, the beautiful princess needs your help to get ready for the ball! Everyone will be there, even the charming prince from the neighboring kingdom. As her special stylist, you should apply her makeup, pick clothes for her, and make sure she will be the most stunning person in the room!
Kingdom dances and balls are so important to get to know other nobles and learn the latest happenings in the land. So our princess decided to host a ball in her castle but she's excited about it. Through 2 stages, you can help her get ready. First, let's give her amazing makeup that will compliment her beautiful facial features. From the bottom of the screen, pick a blush, lipstick, eyeshadow, and mascara. Each of these has different options. When you're done, let's open the doors of the dressing room to put a cute outfit together. You can pick and use individual pieces such as a strapless top and a flowing skirt together. If you want something fancier, you can also pick a beautiful dress. When you decide on the outfit, you can pick different accessories. Select a nice purse, a necklace, a pair of earrings. Complete her look with additional details, and she's ready to become the center of attention!
Meet princesses, play with fashion, and even cook amazing meals with the games listed under our collection of free girl games! Have fun!
Developer
Top Girl Games developed Princess Gala Host.
Release Date
October 15, 2021
Features
Colorful 2D graphics
2 different stages to complete
Different clothes and accessories to choose from
Intuitive controls
Entertaining gameplay
Controls
You can use your mouse or the touchscreen controls to play the game.