Play Now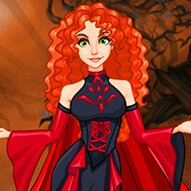 In a world full of delicate princesses, dare to stand up for yourself with Princess Villains! Everybody wants to be a vanilla princess nowadays. Shiny crowns, crystal castles, and roads paved with flowers charm them. What they do not know is the satisfaction of standing your ground, and today, we will be doing it in style!
Before your eyes stands a famous ice princess, the only difference is that she decided to take a step and change the way things have been running around! She is not accepting being imprisoned in a fancy castle and waiting for a white knight anymore. Today is the day we take the matters into our hands, and to do that, we need to get ready for the change. We have to get rid of that sweet princess look first and multiply the impact! Let's start by choosing our hero's skin tone, blush, lipstick, and eyeshadow. Now we can get her some contact lenses and earrings and move on to the second part: her wardrobe! Choose between dark and stunning dresses, or go for a blouse and pants combination. Give her a wand, sword, or any weapon you want! You can unlock one last step and add a pair of wings to finalize your creation!
If you like makeup and clothes, you can check out our Girls Games category!
Developer
DL-studio developed Princess Villains.
Release Date
May 5, 2022
Features
Family-friendly
Detailed skin tone and makeup options
Wide clothing variations
Backgrounds and accessories
Available on mobile devices
Controls
You can use your mouse to play this game.