Play Now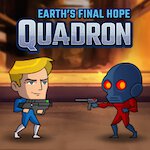 In Quadron, you are the final hope of the world! Rick Burton and his squad were on a mission to beat their evil enemies, Dr. Klein. After defeating the space robot army, the evil doctor captured the whole team except for Rick. You should help him with his fight against the evil forces and save his friends. It is going to be a long journey but with you on his side, there is no place for fear!
One hero, against the whole evil army of Dr. Klien's. Luckily, Rick has you on his side to rescue the rest of the squad. Your objective in this fun strategy game is helping our hero to activate and upgrade the boosters when his power is not enough for the enemies. You and your mouse are what is needed to play this game. First, locate the battle on the map and click on the fight button. Our character will start to shoot automatically when the game starts. You will see a picture of him at the bottom of the screen. Watch the yellow energy line and click on the picture when it is full to activate a booster. You can see the 3 stages to finish the level at the middle top of the screen. Defeating enemies will earn you new items to stock. With your earnings, you can upgrade your character stats and buy super skills. As you proceed in the game, you will be rescuing the characters and upgrade their features as well. Good luck!
If you want to try another game as fun as this one, then be sure to check Dreamfields by clicking here.
Developer
Kizi developed this game.
Features
2D colorful graphics
Team members to rescue
Character stats to upgrade
Various superpowers to unlock
Controls
You can use your mouse to play this game.