Play Now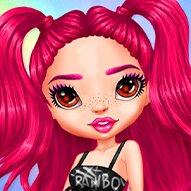 Dress up two beautiful influencers and their friend for a striking photoshoot with Rainbow Insta Girls! You have three different characters to style up and many details to deal with! Doll them up, compare their looks, and choose the perfect background for their desired photos! Will you help these princesses get ready?
We have two gorgeous friends with different styles but the same wardrobe. Start with the first girl and choose her eyebrow color, blush, lipstick, eyeshadow, and hair. When done with the makeup, click on the tick on the bottom left and move on to their wardrobe. You have bold dresses, skirts, jeans, t-shirts, and jackets, all sparkling in vivid colors. Choose anything you want and combine them with the right bag, shoes, and accessories. When you are done, click on the tick once more to move on to the second girl. You will go through the same steps here, choosing the colors of her highly detailed makeup and completing it with the right hairstyle. Then, you will go back to our wardrobe and choose something for her too. Don't forget that they will pose together at the end, so dressing them in matching clothes can do wonders later. After dressing up the second girl, you can unlock a male friend of them, and dress him in trendy clothes too. Now you can enjoy different backgrounds and amazing photos!
If you like styling, you can also try Tik Tok Princess and dress up 3 princesses with unique styles!
Developer
DL-studio developed Rainbow Insta Girls.
Release Date
December 3, 2021
Features
Bold colors with trendy styles
Detailed choices
Easy to play
Available on mobile devices
Controls
You can use your mouse to play this game.