Play Now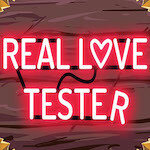 In Real Love Tester, you can learn if that special someone is just a mere crush or your soulmate! Let your heart's aflutter, and your spirits soar. The answer to the most important question dancing in your mind is just a few clicks away. Are you ready to learn the truth?
Love is one of the most amazing and powerful feelings one can experience. Your heart races when you see your significant other, but how can you be sure if you two are meant to be? Let's end the waiting and take action! In this game, you can see how compatible two people are with each other. Just write the names of the two people in the boxes, and hit that big red button to see their compatibility score. Once yoU're done testing yourself with that person who visits your dreams constantly, you can try different people too! Why not see how your best friend would do with their crush, or maybe even with a fictional character? There are 7 different romance scores, ranging from gross to real love! Just keep in mind that these results are just a guess about the relationship between two people. It's best to go and talk to your crush! Enjoy!
For more games like this, be sure to check our collection of online and free girls games by clicking here! Have fun!
Features
Colorful 2D graphics
9 different romance scores
Addictive gameplay
Simple controls
Controls
You can use your mouse to play this game.