Play Now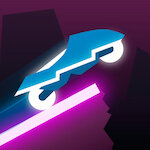 In Rider, a futuristic world is waiting for you! If you're thinking riding around in the traffic is challenging, then come and visit the obstacle-filled dangerous roads made out of the light of this addictive game. Do you have what it takes to perform amazing stunts to earn a high score?
The road is glowing and it might look pretty, but you better keep your eyes on those obstacles and traps. The objective of this game is to drive as far as you can to earn a high score. You can play this game with your mouse, so to start, just click on the play button on the main menu. To move your vehicle forward, click and hold your left mouse button on the screen. When you drive over ramps, you'll become airborne. While in air, click and hold the left mouse button to perform roll stunts. You earn points as you move forward and these stunts give you extra points. But be careful! There are many different traps scattered around. Hitting them or failing to land on the track on your wheels destroys your vehicle. Collect the diamonds you see around the world to buy yourself a new bike. Enjoy!
Do you like the thrill of races? If so, be sure to browse our other popular racing games for free and online by clicking here! Have fun!
Release Date
February 16, 2018
Features
16 different bikes to unlock
Exciting stunts that you can perform
Nice 2D graphics
Addictive and entertaining gameplay
Intuitive controls
Controls
Use your mouse to play this game.