Play Now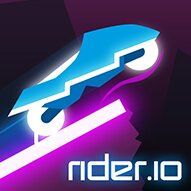 Race into an arcade sunset with Rider.io! Try new backgrounds with every run, challenge nine other players online, and try to be the one who survives the longest in a low-gravity neon track full of deadly obstacles. There is no end to this race; it's a survival ride!
These matches are basically traps that give you the idea of extremely short races and get you addicted. They usually take around a few seconds before everyone crashes and gets disqualified, but they are so simple with fascinating colors and rewarding mechanics; you just keep going back for more. The key is to focus on your own best score and forget about your opponents. They do not affect you, but the gigantic saws do. The controls are really simple; click to start the engine and hold to speed up. Speeding mid-air makes your bike flip, and if you turn upside-down, it's game over, so try to balance your bike at every jump. Do not get confused by the flying tires of your failed competitors, look forward, and do not beat yourself over it; this track is truly challenging. Keep your goals above your best, and stay on the top of the list at every race!
If you like online racing games, you can check out Trackmania Blitz and challenge players from all around the world every match!
Developer
kiz10.com developed Rider.io.
Release Date
March 11, 2022
Features
Stunning neon theme
Multiplayer races
Unlockable bike options
Available on mobile devices
Controls
You can use your mouse to play this game.