Play Now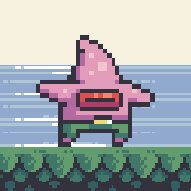 Ringo Starfish is inviting you to join him on this incredible adventure! As a passionate adventurer, this starfish has decided to travel the mystical islands and find hidden treasures. There will be lots of creatures and traps waiting, though. Only you and you alone can help him avoid the traps and eliminate the enemies. So, do you want to unleash the adventurist spirit within you now?
Get ready to conquer the Coconut Island in this amazing game! This starfish is so crazy that he has decided to travel the island to find hidden treasures. We can't let him face all the dangers by himself, right? That is why you are here. You gotta help him complete his mission. Your objective is to complete the levels by reaching the finishing spot. Use the keyboard arrows to move and jump. Try to collect as many coins as you can! When you find a chest, jump on it so that it will open. You have 5 starfishes with only 3 lives per level. You can track your remaining lives from the left top of the game screen. There is a checkpoint in each level. Even if you lose all your lives, you can start from the checkpoint. Since you are a sea creature from now on, you can easily travel in the water too! Good luck and have fun playing!
We have other heroes who need your help! If you want to be there for them too, be sure to check our collection of free and online adventure games and enjoy more fun titles like this game.
Developer
magnificstudios developed Ringo Starfish.
Release Date
July 20, 2021
Features
2D colorful and nostalgic graphics
25 levels to complete
Differet islands to discover
Fun and engaging gameplay
Controls
Arrow keys or A, D to move. W or Up Arrow to jump. X or J to fire.