Play Now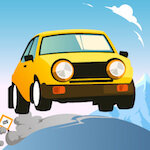 Risky Trip invites you to challenge your courage! Whether you trust your driving skills or not, this road is a hard one to go for everyone! You have a big and strong land-rover for this trip, but the vehicle alone won't be enough to reach your destination. With all the traps and many obstacles, you have to trust your fingers to adjust your speed as well. Now, let the journey begin!
We are sure that you have never ever taken a trip like this one before. It is a dangerous way ahead, but you have to focus on the destination point for motivation. Your objective in this fun game that tests your driving skills is to drive as far as you can by avoiding all the deadly traps and obstacles. If you get caught by a trap or hit an obstacle, your vehicle will be destroyed, and you have to start again. For each drive, the scenery and the weather will be changing too! Collect as many coins as you can during the journey and use your earnings to unlock other vehicle options from the in-game shop. Use your left and right arrow keys to accelerate and decelerate your car. Good luck and drive carefully!
If you want to try bigger vehicles for many other deadly roads, then be sure to check Monster Truck America.
Developer
Kiz10 developed this game.
Release Date
December 7, 2017
Features
2D colorful graphics
2 different scenery while driving
Various vehicles to unlock
Endless trip to enjoy
Controls
The right arrow to accelerate and the left arrow to decelerate.