Play Now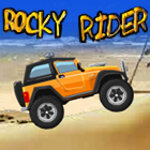 In Rocky Rider, get ready to show your amazing driving and stunt skills through challenging levels filled with obstacles. Whether you know how to drive or not, you should be prepared to embrace the bumpy and rocky roads. If you think you can complete each level in this game, then start the engines and begin!
Challenge your skills through the different episodes of this game! Your objective is to complete each level by reaching the end without destroying your car. To begin the game, click on the start button on the main menu and then select an episode. The game features 3 different episodes but you need to unlock the last two by completing the first one. To control your car, you can use the arrow keys. The up and the down arrow keys will make your car move forward and backward, respectively. The left and right arrow keys can be used to perform rolls while your vehicle is in the air. Pressing the SPACE BAR makes your vehicle jump and the Z key lets you use your nitro. As you crash into obstacles, you can see your health deplete from the top of the screen. Collect repair packs to repair your car. Collect as many stars as you can to get bonus points. Have fun!
Don't forget to browse our collection for more similar games! Have you checked our other popular title, Monster truck America? If you haven't, just click here to start playing now. Enjoy!
Developer
Chillcade developed Rocky Rider.
Features
3 different episodes to complete
Intuitive controls
Challenging level design
Entertaining gameplay
Controls
You can use the arrow keys to control your vehicle. Press the SPACE BAR to jump and the Z key to use your speed boost.