Play Now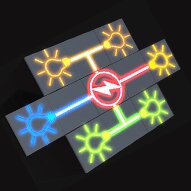 In Roll the Flow, who put the lights out? The lights were working perfectly one moment and then suddenly they went out. We don't know who is responsible or what happened, but the whole town looks like a ghost town now. People are getting restless, and a solution must be found now. Do you think you can be of any help?
The entire town fell into shadows in just a minute. No, it's not the work of ghosts or anything supernatural. There is obviously something wrong with the circuit. Maybe the workers did something wrong. Since they are all gone, the duty befalls you. Your objective is to connect the wires so that the current will flow through the circuit. All you need is your mouse to play this game. The gameplay is similar to other puzzle games. Just click on the wires to change their place. Connect them to the power source and don't stop until it reaches the lamp. You may try as long as you want, there is no time limit. The game will start off easy but will get progressively more difficult. At first, you will only need to connect one color, but as the game progresses, you'll need to connect various colors. Have fun playing!
If you are looking for more games like this one, you should check out our collection of online puzzle games. Enjoy!
Developer
bestgames.com developed Roll the Flow.
Release Date
June 15, 2021
Features
Colorful 3D graphics
Intuitive controls
Fun and addictive gameplay
Many levels to complete
Controls
You can use your mouse to play this game.