Play Now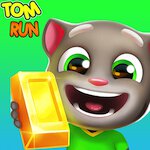 In Tom Runner, take control of a mischievous but a fast cat, and try to run away from the evil farmer as long as you can. We don't know what Tom did to make the farmer this mad, but it seems he has no choice but to run away. From countryside to villages and even to the bustling cities, this fast-paced marathon will take you through many different locations. Tie your shoes and start running now!
As a cat, Tom is very agile and athletic, but he still needs your help to overcome various obstacles and challenges on his way. The main objective of this game is to keep running as far as you can as you try to escape from the angry farmer. You can control your character with the arrow keys. On the main menu, you can check your current tasks and daily rewards from the top left corner of the screen. When you're ready to start, click on the screen. Tom will run on his own, but you need to move him left and right, make him jump over or slide under various obstacles to avoid getting crashed into them. You'll find lots of coins and should try to collect as many of them as you could. Keep an eye out for different power-ups too! Good luck!
For more games like this, be sure to check our collection of free action games by clicking here. Have fun playing!
Developer
Outfit7 developed Tom Runner.
Release Date
May 2019
Features
Different tasks to complete
Colorful 3D graphics
Daily rewards
In game shop to buy different items for your character
Controls
Use the arrow keys to control your character.