Play Now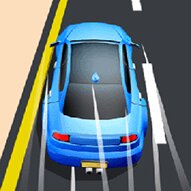 In Rush Race, get in the driver's seat and fasten your seat belt! The roads will not be empty, but thanks to your amazing driving skills you can move on without hitting any of the other cars! Are you ready to drive at the rush hour of the day? Have fun!
It's not the destination, it's the journey, they say. Because there is no end in this game, you will drive endlessly! But one thing you need to know, you will be driving at the busiest time of the day! If you are ready to show off your driving skills, let's jump into the game and see your talents! Your goal is to avoid hitting other cars while completing each level. You may use your mouse to steer the car. To move to the left lane, simply click and hold the left mouse button. Just keep an eye out for cars approaching from the left lane. Release the left mouse button when you see a car ahead of you and return to your own lane. If you crash into another car, the game will end, and you will have to start over. Claim your reward and buy new cars when you reach the finish line. You may also improve these cars to make them go faster. Have fun!
If you liked Rush Race, to check our collection of free and online car games, click here!
Developer
BPTop developed Rush Race.
Release Date
June 08, 2021
Features
Many levels to complete
6 different cars to choose from
Boosters to buy
Fun and addictive gameplay
Controls
You can use your mouse to play this game.