Car Eats Car: Winter Adventure
Play Now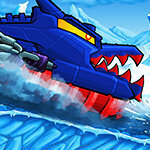 In Car Eats Car: Winter Adventure, you better grab your coat because we're going to visit snow-covered places in this game. Take control of a dangerous and destructive car once again, and try to survive through multiple levels despite the enemies and obstacles.
Similar to the other titles of the series, your objective in this game is to complete each level by reaching the finish line in the end. This may sound easy, but many dangers are waiting for you! To start the game, click on the play button on the main menu. You'll be taken to the level selection screen. There are 22 different levels, but only the first one is available in the beginning. You can unlock the rest by completing open levels one by one. Use the arrow keys to move forward and balance yourself. At the top of the screen, you can see your health and nitro boost meters. You can collect items to fill these meters. Kill the enemy cars by dropping bombs. Collect as many gems as you can. You can spend those at the in-game shop to buy different upgrades and items. Have fun!
Try the other title in the series, Car Eats Car: Dungeon Adventure. Enjoy!
Developer
SMOKOKO Ltd developed Car Eats Car: Winter Adventure.
Release Date
December 10, 2019
Features
22 different levels to complete
Colorful 2D graphics
Intuitive controls
4 different stats that you can improve
Different gadgets and bombs you can use against your enemies
Entertaining gameplay
Controls
You can use the WASD or the arrow keys to move around. Use the SPACE BAR key to throw bombs. Press the X or the Left Shift key to activate your turbo boost.