Play Now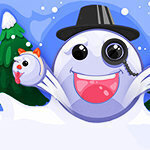 In SnowHeroes.io, get ready to dive into an icy world full of competition. In this frosty world, everyone is trying to become the biggest and the baddest player! Do you have what it takes to step out from the crowd and show everyone else that you're the strongest one?
With online multiplayer gameplay in its core, this game is pretty competitive. Your objective is to survive among the other players, and become the biggest one. Similar to the other dot io games, you control a character, and grow by eating pellets or other players. You can play the game with your mouse. Give yourself a name, and then click on the play button to dive into the arena. You'll start as tiny, but you can grow by eating orbs, and player smaller than you. Move your cursor around to screen to direct your character in different directions. In the beginning, you'll have to escape from bigger players, so click on the screen to move faster. Keep your eye on the meter below the screen, as this is your energy bar. You can also jump by clicking on the screen with the right mouse button. In the top left corner of the screen, you can see the leaderboard. You can track the progress of the top 4 players and your points from there. Good luck!
If you'd like to play another popular title like this, then be sure to play our game Agar.io, by clicking here for free! Have fun playing!
Developer
Night Steed S.C. developed SnowHeroes.io.
Release Date
November 25, 2019
Features
Colorful 2D graphics
Online multiplayer gameplay
Intuitive controls
Different character skins to unlock
Controls
Use your mouse to move around the map.