Play Now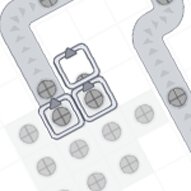 In Shapez.io, it is time to build your own factory and improve it without limits! The goal of this entertaining game is to construct factories that automate the creation and mixing of shapes. Continue playing the game to enhance your business and unlock additional features. To boost the speed of your production, you must use strategies to put the tools. Let's get this party started if everything is clear to you now!
Welcome to this fascinating simulation game in which you'll need all of your concentration and patience. When you first start the game, you'll be in an infinite area where you can create your factories. What you'll do is make pathways and connect the resources to the main fac. To play, you only need your mouse and nothing else. In addition, the game explains all of the controls. Drag the mouse and use the keyboard to explore. Drag the tools at the bottom of the screen to a suitable location by clicking and dragging them. To put, release the button. These increasingly complicated shapes will flow through the factory once the paths are connected. Your income will rise in lockstep with the expansion of your business. Other tools can be unlocked, allowing you to improve your skills even more. The trash button can be used to get rid of the pieces. Have fun!
Do you want to play more games like this one? If so, take the different challenges in our collection of free and online puzzle games.
Developer
Tobias Springer IT Solutions developed Shapez.io.
Release Date
June 8, 2020
Features
2D black and white graphics
Endless area to build factories
Simple controls
Fun and engaging gameplay
Controls
You can use your mouse to play this game.