Play Now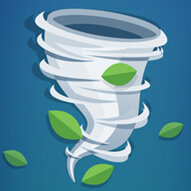 In Tornado.io, it is time to go like the wind! Get ready to twist and turn to create havoc in the city! Take control of your tornado and become the biggest one before the other destroy you! Good luck!
Humans were offered a chance! However, they have polluted the world, and now is the time for you to use the power of nature to destroy their city! People think today is just another casual afternoon, but they're wrong! It is your time to create chaos! Your objective in this game is similar to other .io games, you will try to grow as a tornado by destroying almost everything on the map, including other players as it is a multiplayer game! Enlarge, you need to swallow the victims and items like people, cars, buildings, trees, and so on. Try to look for the most populated locations, for spending less time on. You only need your mouse to play the game. You will begin the game as a small tornado, as you grow yourself by clicking and dragging the mouse around the map, you can be at the top of the ranking. Follow the list at the left top of the screen. You will be capable of removing buildings and even mountains when you reach a certain size. The ones are bigger than you can consume. Don't let anyone destroy you, kill your opponents before they do! Have fun playing!
Do you want to play more games like this one? If so, take the different challenges in our collection of free and online multiplayer games.
Developer
LoraStudio developed Tornado.io.
Release Date
July 25, 2019
Features
3D colorful graphics
Multiplayer game
Entertaining gameplay
Addictive gameplay
Controls
You can use your mouse to play this game.