Play Now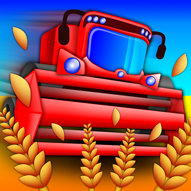 In SunnyFarm.io, it's time to enter the arena. But this time, the arena will be nothing like you've ever seen before. If you think you have what it takes to survive in this arena join in on the fun now, and let's see how long you can survive. Let the Hunger Games begin!
The charming life in the country. It really does sound good, but things don't always go as expected. Welcome to the farm where you have to fight till your last breath to survive. In this game, your objective is to gather all the harvest and reach the top of the leaderboard. If you're ready for the fight, let's begin. You can control the tractor with your mouse, WASD keys, or the arrow keys. You'll be playing against other players from all around the world and all of them are just as good as you. You need to gather all the harvest before they do to be the number one on the leaderboard. But be careful! If you hit your tail or other players' tail, you'll have to start again. The same thing applies to other players. So, you can try to kill them and gather the harvest they leave behind to grow even larger. You can see your level progress above the tractor. Try to earn all the achievements and show others that you are a force to be reckoned with! Good luck!
Can't get enough of competition? Then play ClassicSnake.io now by clicking here and show others who is the boss!
Developer
DRA developed SunnyFarm.io.
Release Date
December 23, 2020.
Features
Online multiplayer gameplay
Intuitive controls
Achievements to earn
Nice 2D graphics
Controls
Use the WASD keys, the arrow keys, or your mouse to control the tractor.