Play Now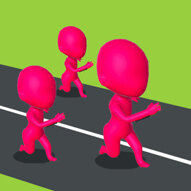 In Crowd City, only the ones who can be the true leaders will survive! There so many independent people moving around alone, you have to make them follow you! It is the most dangerous thing to wander alone in this city! Are you a true leader? Have fun!
This city is a dog-eat-dog world! Everybody is chasing each other! As a true leader, you have to make crowds getting behind you. You will start as a lone wolf and gather crowds behind you as you proceed with the game. In this game, the aim is to run through the town and gather the largest crowd to win the game by either eliminating all players or getting the most followers when the timer runs out. But before you start, first choose a color for yourself to recognize yourself on the map when it will be busier. There are 9 different colors you can choose from. When you are ready, click on the play button and let the competition begin. Your targets are the white-colored players walking around, you should move close to them to make them part of your crowd. You can follow how many people are in your crowd and the scoreboard at the top of the screen. Try not to hit the other crowds or else you will lose the game. When time is over, the player who has the biggest crowd wins the game. Good luck!
Do you need more games like this one? If so, take the different challenges in our collection of free and online IO games.
Developer
YAD.Com developed Crowd City.
Release Date
January 29, 2021
Features
Multiplayer game
Entertaining and challenging gameplay
Restricted time
3D graphics
Controls
You can use your mouse to play this game.