Play Now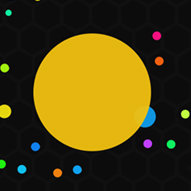 In CellCraft.io, join the competition and challenge other players to the top of the food chain in the online multiplayer environment. Move around the map and try to survive as long as you can. Do you have what it takes to become the biggest player on the map?
Cells are vicious and all of them want to grow! Join other players and start eating to survive! Your objective in this game is to dominate the game map by becoming the biggest player. You can register or play the game as a guest, but don't forget to give yourself a nickname. Your blob follows your cursor, so you can move it with your mouse. When you first begin, stay away from big cells as these can eat you. Go after smaller ones and eat them to grow and earn points. Pressing the SPACEBAR key will make your blob multiply, and you can use the W key to burst particles. Need some help? Visit the in-game shop to purchase different power-ups, so you can overpower other players and stay alive. If you get eaten, you'll lose the game and have to start from the beginning, so be careful. Have fun playing!
Visit our collection of more free and online .IO games for more! Enjoy!
Developer
Agma developed CellCraft.io.
Release Date
November 25, 2020
Features
Online multiplayer gameplay
Colorful 2D graphics
Intuitive controls
Verious power-ups to use
Challenging and competitive gameplay
Controls
Use your mouse to control the cell. Press W to eject mass. Press SPACEBAR to multiply.