Play Now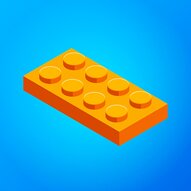 In Construction Set, one of everyone's all-time favorite pastime activities is now available for online entertainment! Featuring nice 2D graphics and 84 Lego sets to complete, this game makes your dreams come true. Don't let your inner child die and build everything that you can possibly think of using Legos. If you are ready, let's go!
Lego is love, Lego is life. Not just for children, but for adults as well. Lego isn't just a pastime activity anymore; it is a hobby. If you want a collection of Lego items for yourself, you have come to the perfect place. Here, 84 different sets await you to come and unbox them. Don't be shy and open all the boxes. Your objective is simple. Complete all the sets and expand your collection. You can build a Lego bicycle, a human, and even a beach if you want. Anything is possible! First, open the box. Then open the packet and put together the pieces. All of the pieces will be laid out in front of you. There may be more than one of the same piece. You can see the piece you need to find on the right corner of the screen. Don't click on the wrong Lego or you'll lose a life. You can check how many lives you have from the top of the screen. For each set you complete you'll earn coins you can use to buy new wallpapers and floor. Have fun playing!
If you want to play more games like this one, you can check out our collection of online puzzle games. Enjoy!
Developer
YAD.Com developed Construction Set.
Release Date
June 01, 2021
Features
84 Lego sets to complete
Unlockable wallpapers and new floors
Fun and addictive gameplay
Intuitive controls
Controls
You can use your mouse to play this game.