Play Now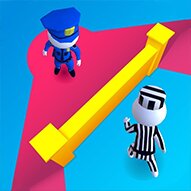 Pick a side in Hide and Seek and start challenging other players to pass levels! Choose between two addictive game modes, seek or hide, and collect gold in all the chaos running in the background! Visit the game shop, check out the character skins, and choose something that fits your role!
Get ready for the incoming mayhem; you might not make it alive! Find what you are good at, get even better at it, and make your enemies regret ever challenging you! Give yourself a shot in this futuristic version of the all-time famous children's game, and collect gold bars while doing so! Start with the first level and take control of the arena. These randomly generated playgrounds can be game changers. If you want to play as the seeker, you might want to pay extra attention to what is happening around you. The maze can be a little confusing, but with the opening doors and paint puddles, catching your victims can get really easy. Watch out for the disappearing gold bars, footprints, and moving doors. Try to foresee their next moves and act accordingly. If you are on the hiding side, staying on the opposite side of the platform would be wise. Good luck!
If you like this addictive 3D game, you can check out Jump Dunk and work on your basketball skills!
Developer
Stickman vs Monster School Team developed Hide and Seek.
Release Date
August 29, 2022
Features
Unique platforms with changing features
Tens of unlockable skins
Increasing difficulty
Two mode options
Controls
Use "W, A, S, D" or your mouse to control the character.