Play Now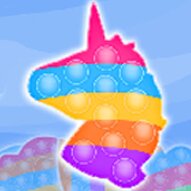 Relax a little with Pop It Fidget Now! Are you ready to have lots of fun while getting rid of the daily life stress? You can pop the bubbles online and free at our game platform! No need to get toys that you won't care about after a while. You can just click on the play button and enjoy yourself in front of your computer or on bile. Let's get it started now!
Lots of colors and shapes are waiting for you here. With 3D graphics and several levels, this fun pop-it game will lock you in front of the screen for hours of fun. If you are not familiar with this game concept, let us explain you a little. This responsive game allows you to get rid of your stress by popping the bubbles in each level. You can have fun while relaxing. All you need to do to complete a level is popping all the bubbles on the shape. In each level, you will enjoy another shape of toys as an apple, a unicorn, or a heart! There are two more things that make this game unique! You can change the color of your toy from the left side of the game screen. What about rainbows? Also, you can turn on the volume and enjoy swapping sounds from the right side! Have fun!
If you want to try another pop-it game similar to this one, we have a perfect suggestion for you! Let's check TRZ Pop It now by clicking here.
Developer
JM Neto Game Dev developed Pop It Fidget Now.
Release Date
July 26, 2021
Features
3D colorful graphics
Several levels to complete
Swapping colors and sounds
Fun and addictive gameplay
Controls
You can use your mouse or the touch controls to play this game.