Play Now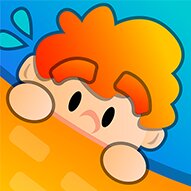 You can now play one of the most widely played children's games with HideNSeek3D. When was the last time you played Hide and Seek? With the improving computer games and technology, children are attending physical activities less and less every day. But don't worry, this game brings these two together, providing you an online environment to play in, and people to play with!
You start in a room with your eyes closed. You can start looking for your friends after you open your eyes. Search around the room and open the door to search the rest of the house. Some areas in the house are off the limits, and it is better this way because even the available space can get confusing from time to time. Look around carefully, inspect the objects, and always question if someone could fit behind them. The level ends after you find your friend, and the next level starts with one more player. Every new level takes place in a new area, and changing locations give you a chance to explore anew with every game. Check bathrooms, kitchens, and attics, trust your senses, and rule the game! Get challenged by increasing numbers of players at every level!
If you like testing your attention skills, you can check out our Skill Games category by clicking here!
Developer
YSO Corp developed HideNSeek3D.
Release Date
March 9, 2022
Features
Colored 3D graphics
Wide and changing maps
Cute character design
Classical children's game experience
Controls
You can use "W, A, S, D" to move, and left mouse click to uncover players.