Play Now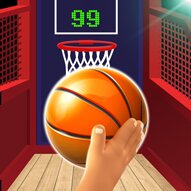 Show off your dunking skills with Shot Shot! You can show everyone how good of a basketball player you are with this ultimate basketball game. It is the basketball game you know and loves, but this time you can enjoy it online! Are you ready to dive into this addictive game and score as many basketballs as you can?
In this fun game, you have the exact replica of the basketball booths in which you can try your dunking skills. Just like in real life, you are given five basketballs for you to dunk your ball into. At each level, you have limited time to play. Within that given time, you should successfully dunk into the hoop enough times. You can check how you are doing from the indicator on the left of the screen. Your aim is to get the bar to the top so that you can level up. In this addictive game, everything feels so real. From the pushing motion to the ball hitting the edges of the hoop, you can feel as if you are playing a real basketball game. From time to time, there will be chances for you to try new balls. Don't miss out on those chances because each new ball brings new gameplay. Also, each new level brings new challenges like a moving or a tilting hoop. Now, get your ball and try to dunk as much and as fast as you can.
If you enjoyed playing Shot Shot, you should check our collection of free and online sports games.
Developer
BPTop developed Shot Shot.
Release Date
October 05, 2021
Features
3D colorful graphics
Multiple levels
Intuitive controls
Challenging gameplay
Balls to unlock
Controls
You can use the mouse of your computer to throw the balls.