Play Now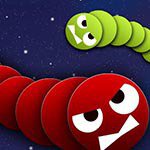 In Angry Snakes, it is time for you to prove that you are the best player ever in the snake world! Like every other animal, these reptiles need to eat to grow. But in a large area with many other players can challenge your needs a little. You should beat your opponents before they hunt you first! Meanwhile, enjoy your little shining treats and extend your size!
It is no ordinary day today for a snake! Because you need to show yourself in the area by standing as the last one surviving. Your enemies will try to hunt you down, but your utmost goal is to eat the colorful and shining treats that will make your size bigger. From the main menu, you can select your skin with the most appealing color for your taste. Then, click on the play button to enter the room filled with opponents of different sizes. You should start to eat the colorful points and extend your size to become a more threatening enemy for others. As you get bigger you can make more tricks to capture the players because if they touch you, they die. You too, if you hit another snake, you have to restart the game. Compared to other snake games, there is no danger of hitting yourself in this one. Good luck!
Don't forget to check our collection of online and free IO games where you can find out more fun titles like this one.
Developer
Red Eye Production developed Angry Snakes.
Release Date
August 10, 2017
Features
2D colorful graphics
Various color options to choose as skins
Intuitive controls
Entertaining and addictive gameplay
Controls
You can use your mouse to play this game.