Play Now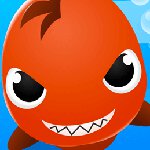 In Piranha.io, dozens of sharps teeth and an endless appetite is hiding beneath waves as the vacationers carelessly enjoy the summer. Can you climb to the top of the food chain as you eat swimmers and your rivals in this online multiplayer game?
These vicious fishes are known for reducing anything to bones in just a few seconds! It's time to live up to this reputation, so you better start playing now! The objective of this game is to eat as many people and other players as you can to earn the most scores and stay at the top of the leaderboard. When you launch the game, give yourself a name first. Then, if you want, you can pick one of the many different character skins by clicking on the fish icon in the top right corner. When ready, click on either the classic mode or the more challenging no power-ups mode. You start as tiny. As you eat, you'll earn points, grow in size, and level up. Leveling up resets your size, but you'll earn more points per swimmers and players you eat. Keep in mind that you can eat people anytime, while you have to be bigger than the players to eat them. Terrorize the waters, and show others you're the apex predator!
Destroy cities, and devour other players in our other wildly popular game Black Hole.io, by clicking here. Have fun playing!
Developer
Kiemura developed Piranha.io.
Features
26 different character skins you can choose
Colorful 2D graphics
Online multiplayer gameplay
Intuitive controls
6 different power-ups to collect
Controls
Move your mouse around the screen to change the direction of your fish. Click and hold on the screen to boost your speed. Press the SPACE BAR to use your active power-up.