Play Now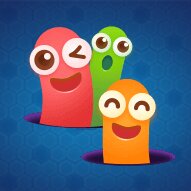 Offering three unique game modes full of fun, Snake io War has a friendly competition environment with a lot of unlockable features! Corner your enemies and get kill points, keep growing to be the biggest snake on the pit, and keep your name on the top! From signing in daily to just cracking the golden egg, you will also get rewarded for all your actions!
You can use the button on the left to remote your snake, and the boost button on the right to speed up. Run around, dodge your opponents, and eat everything you can to keep growing. Make your enemies crash into you to earn kills and bonus coins. Choose between the endless, limited time, and 30 Snakes modes. On the main screen, you can see the game modes in the middle, settings to the left, your coins on the top, and rewards and shop to the right. You can change your controls from left to right from settings. The shop contains lots of cute and funny skins you can unlock with your coins. The rewards tab awards you with gold and skins for logging in daily, and the golden egg contains a random gift you can claim by watching a shot ad. Unlock the rarest skins and crawl with style!
If you like this multiplayer competition, you can check out our other io games by clicking here!
Developer
XTStudio developed Snake io Wars.
Release Date
March 17, 2022
Features
Colorful 2D graphics
Multiplayer servers
Detailed and adorable skin options
3 exclusive game modes
Available on mobile devices
Controls
You can use your mouse to play this game.