Play Now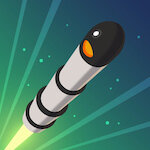 In Space Frontier, it's a time to take a small step for yourself but a big one for humanity! The red planet Mars has always been a mystery for humans, and now the time has come to visit our celestial neighbor. Can you colonize this barren planet by taking enough astronauts to it?
Ready to launch in 3, 2, 1! Your objective in this game is to unlock Mars by taking a hundred astronauts to it and build a new rocket on it. You play this game with your mouse, so to start, just click on the screen. After the countdown, the rocket will launch. All you have to do is to click on the screen on the correct time when the flames reach the green line on each section of the rocket. Clicking on the screen at the exact time the flames reaching the green line will boost the rocket's speed, and you'll reach a much higher altitude. If you're too late, your rocket will explode and you'll fail. Before the launch, be sure to hire astronauts. As you earn new best scores, you'll get coins. These can be used to upgrade your rocket, hire astronauts, and unlock different rocket skins form the in-game shop. Have fun and good luck!
Fly into deep space and conquer Mars in our other popular game, Into Space 2. Enjoy!
Developer
Kiz10 developed Space Frontier.
Release Date
December 21, 2017
Features
Colorful 2D graphics
8 different rocket styles that you can unlock
Entertaining and addictive gameplay
Intuitive controls
Unlockable planet Mars!
Controls
You can play this game with your mouse.