Play Now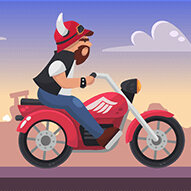 In Biker Lane, get ready for a thrilling bike ride that will take you to new heights. Only someone who is addicted to adrenaline would dare to come here to perform amazing stunts! Since you obviously are, let's go now and see if you can complete all these levels. Do you have what it takes to perform stunts that look like they are out of a film?
Get ready now, biker! The roads await! But this time, the roads are not going to be like the ones you are familiar with. Here, the roads are the lines you can see on the screen. the speed rules do not apply to you. You are a free spirit who can do whatever he wants. There's just one thing we want from you. Your objective is to complete all the levels by reaching the finish line. To speed up, press X. To hit the brakes, press Z. The roads are really dangerous, so you need to be careful and try really hard to maintain your balance. To do this, you can use the left and right arrow keys. At the top left corner of the screen, the level you are on and the timer can be seen. The timer starts when you start moving. Try to finish each level as quickly as you can to earn 3 stars. Have fun!
If you want to check out more games like this one, you can check out our collection of online bike games by clicking here. Enjoy!
Developer
MarketJS developed Biker Lane.
Release Date
April 16, 2019
Features
Fun gameplay
Many levels to complete
Nice 2D graphics
Intuitive controls
Controls
Press X to move. Press X to use the brakes. Press the left and right arrow keys to balance the bike.