Play Now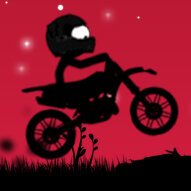 In Super Stickman Biker, a journey full of thrill and adventure awaits you! As someone who is addicted to adrenaline, we're sure this bike ride full of traps and obstacles will sound amazing to you. So, get ready to wear your helmet and hop on your bike. Are you ready to test your limits and see if you can complete all these levels?
Another day, another adventure! This time, you need to take your bike with you and head to the hills with us. If you are ready to perform awesome stunts, we better start now! In this game, your objective is to complete each level before the timer ends. There are 15 levels you need to pass and each of them will challenge you more than the previous ones. To play, you need to click on the right side of the screen to move and the left side of the screen to use the brakes and stop moving. The thing about these hills is, they are full of sharp spikes that can kill you instantly. You need to steer clear of them and also try to avoid falling down and hitting the oil cans and other obstacles. Collect the pieces of gear scattered around to unlock new bikes. You can see your remaining time and the number of gears you have collected at the top right corner of the screen. Have fun!
If you want to play more games like this one, you can check out our collection of online bike games . Enjoy!
Developer
kiz10 developed Super Stickman Biker.
Release Date
May 17, 2018
Features
Fun gameplay
New bikes to buy
Intuitive controls
Nice 2D graphics
Controls
You can use your mouse to play this game.